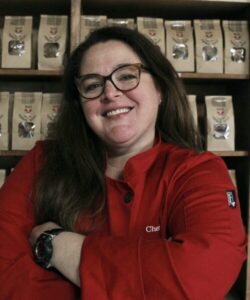 Classically trained Chef Kim is going into her 16th year of teaching summer camps as part of CwK!  She can't wait to spend another summer Cookin' up Fun with kids of ALL ages in the kitchen!
Click here to learn more about Chef Kim's extensive background living and cookin' around the country with some amazing talents and how Cookin' with Kim came to be!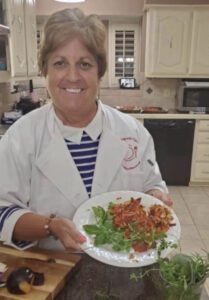 I would like to introduce you to the Newest Member of the Cookin' with Kim Summer Camp Team... Chef Carol Pock!!
Chef Carol will be offering Cooking Classes to Middle School and High School aged kids throughout the summer!
Chef Carol is a published author, and has been seen on the Food Network competing on Guy's Grocery Games. She was formally the Director of the Rice Epicurean Cooking School and is looking forward to bringing many exciting classes to Cypress,Texas.  You can learn a bit more about Carol's background
here
!
We are so excited to have her here at CwK!
IMPORTANT CAMP INFORMATION
Camps at Cookin' with Kim are hands on!  I feel it is important for people to get their hands dirty as well as learn a new skill and be able to recreate these recipes again at home!
Safety is number 1 priority so please be sure your junior chef is wearing comfortable clothes, we provide aprons to keep them clean; as best as possible, comfortable, closed toe shoes and no dangle jewelry.  All long hair should be pulled back.
We reiterate to the junior chefs during class if there is anything at any time they do not feel comfortable doing to let us know and we will show them a different way, or do the task together to try and avoid any unnecessary accidents in the kitchen.
Of course FUN is also high on the list!  We prepare food sometimes in groups, with a partner ore on our own depending the theme.  No matter what we gather as a "family" to accomplish the task for the day
Water, snack and the recipe of the day are provided for every class!
REGISTRATION GOES LIVE 
MONDAY, APRIL 10th at 5pm
Register your junior chef for the grade they will be entering in the fall
If you are unable to add a class to your cart that means the class is full.  You may contact Chef Kim directly at [email protected] to be added to the wait list.  Things do happen and people are called to join!
MINIMUM 4 people for all classes, maximum varies pending theme/age group
Registration closes 72 hours prior to class so don't wait too long to save your spot
Classes are drop and go as log as your chef is comfortable
If you have any questions at all about these classes please feel free to contact Chef Kim!